In a moment of supreme irony, Liverpool principal owner John W. Henry neglected to shake Kenny Dalglish's hand during the post-match medal presentation at Wembley on Saturday.


As is customary in the FA Cup Final, the losers receive their consolation medals prior to the presentation of the cup.

On Saturday, Liverpool's players trudged up to the Royal Box to receive their losers medals, and as you can see below, Henry shook Steven Gerrard's hand as he went by: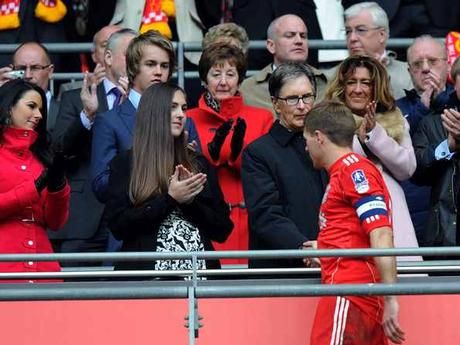 Moments later, Dalglish walked by, and stone-faced Henry seemed to ignore the Liverpool manager, and failed to offer his hand:




Photos: The Liverpool Echo

The Liverpool Daily Post carried the same picture and made direct reference to the incident in their caption, which stated: "John Henry and Kenny Dalglish

pass

each other"

It's pretty poor form for Liverpool's owner to refuse to shake the manager's hand, even though I can understand his disappointment with the final defeat, and the overall poor season.

Earlier in the week, Henry revealed his frustration with Liverpool's profligacy in the transfer market, and after yesterday's handshake snub, things are not looking good for Dalglish.



Jaimie Kanwar
---
SITE UPDATE:
COMMENT POLICY

11 August 2014
Reasoned, adult discussion is the name of the game on this site, so please bear in mind the following when posting comments:
*

ALL

views are welcome, and if someone's football-related opinion doesn't fit your pre-conceived notion of what constitutes an LFC 'fan', then

tough luck

.

* Good-natured banter is fine, but posts containing personal insults, belittlement, sniping, deliberate antagonism etc (directed at fellow posters, players, managers, rival fans etc) will be

deleted.
*

Attack the

argument

, not the

person

.

Repeat offenders will be

banned

.
* Posts moaning about 'negativity' will also be

deleted

. The aim of this site is '

critical realism about LFC

', so please expect a critical/analytical approach, and be prepared to have your opinion challenged.


* Txt spk is

outlawed

. Please write in proper sentences, and avoid using abbreviations like LOL, PMSL etc.

* The site owner

welcomes and encourages disagreement

, but only if opposing views are presented in line with the guidelines above.
Ultimately, it's simple: be as vehement and passionate as you like, but please remain civil
at all times.
Thank you

.