Liverpool FC principal owner John W. Henry is not a happy man. In a chance meeting with a Liverpool fan in the City centre earlier this week, Henry allegedly revealed his dissatisfaction with Kenny Dalglish's British signings, and slammed the team's woeful performance against Fulham on Tuesday night.


Hymy Fisher - a Liverpool fan who does the LFC 'Fanzone' commentary on Sky Sports - relayed the story of his impromptu meeting with Henry on Liverpool-based radio station 'City Talk' this morning.




As you can see, City Talk specifically referenced the Henry story on their Twitter feed this morning. During the 'Fan Friday' segment, Fisher stated the following:

* He bumped into Henry in Liverpool City Centre earlier in the week. To prove it, he posted a photo on the City talk twitter feed (@CityTalk1059):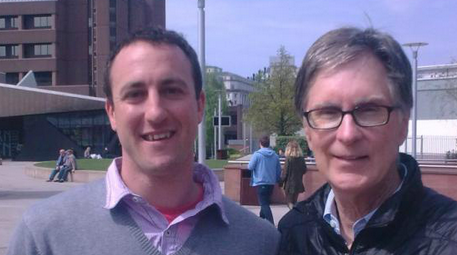 * John W Henry asked him: "Have you ever seen a game as bad as the Fulham game last night"

* Fisher admitted that he couldn't remember seeing a worse game.

* Henry responded: "Makes you realise just how much money we've wasted"

* According to Fisher, Henry then went on to talk about the money wasted on British players (though he didn't name names)

* Fisher then defended Dalglish, arguing that he'll get it right if he gets time.

* According to Fisher, Henry then changed the subject, and went over to meet Hymy's wife and young children.

Initially, I was skeptical about this 'story', so I

called

City Talk and spoke with one of the Producers, who confirmed that:

* Hymy Fisher was on the show this morning.
* He spoke about his meeting with John Henry live on air.
* He said everything I've detailed above.

I then spoke to the City Radio

Newsdesk

, and again, they confirmed Fisher's on-air comments, but admitted they were not going to run the story.

So there you go. It appears that John Henry is extremely dissatisfied with the way things are going at Liverpool right now, and so he should be. Tens of millions of pounds have been wasted on the wrong players, and the Fulham game the other night was indicative of the club's atrocious league season.

It's good to see that the Owner of the club does not have his head buried in the sand.



Hymy Fisher on Sky's Fanzone






Jaimie Kanwar
---
SITE UPDATE:
COMMENT POLICY

11 August 2014
Reasoned, adult discussion is the name of the game on this site, so please bear in mind the following when posting comments:
*

ALL

views are welcome, and if someone's football-related opinion doesn't fit your pre-conceived notion of what constitutes an LFC 'fan', then

tough luck

.

* Good-natured banter is fine, but posts containing personal insults, belittlement, sniping, deliberate antagonism etc (directed at fellow posters, players, managers, rival fans etc) will be

deleted.
*

Attack the

argument

, not the

person

.

Repeat offenders will be

banned

.
* Posts moaning about 'negativity' will also be

deleted

. The aim of this site is '

critical realism about LFC

', so please expect a critical/analytical approach, and be prepared to have your opinion challenged.


* Txt spk is

outlawed

. Please write in proper sentences, and avoid using abbreviations like LOL, PMSL etc.

* The site owner

welcomes and encourages disagreement

, but only if opposing views are presented in line with the guidelines above.
Ultimately, it's simple: be as vehement and passionate as you like, but please remain civil
at all times.
Thank you

.