Liverpool manager Kenny Daglish recently claimed that anyone who didn't think the club had progressed this season needed an 'intelligence check'. Today, he insisted once again that Liverpool had progressed this season, but is this actually true? When it comes to cup competitions then yes, the club improved; however, winning cups is not an accurate barometer of overall progression, and as I will illustrate, in relative terms, the club has *regressed* in the league, and Dalglish is actually doing worse than Roy Hodgson.


The treatment of Roy Hodgson by Liverpool 'fans' was an absolute disgrace, and if he had presided over the abject league mediocrity we've seen this season, fans would be burning effigies of him outside Anfield.

The hypocrisy of fans is truly amazing: In

relative

terms, Dalglish has done *worse* than Hodgson, yet he's given all the time and consideration in the world. This is understandable given his status as a club legend, but it just makes the treatment of Hodgson look even more disgraceful in comparison.

Let's cut to the chase: Liverpool have regressed in the league under this season, and it doesn't matter how you try and twist the truth, the club is doing worse under Dalglish than it was under Hodgson.

When considering the following figures, you need to ask yourself: is this a good enough 'improvement' after spending 117m? Read it and weep: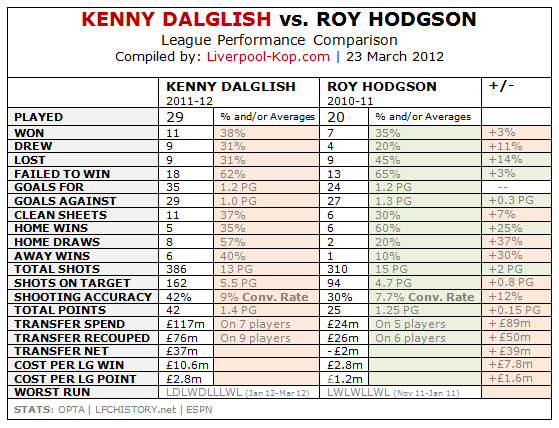 CONTEXT



Dalglish has had every advantage this season:

* Tens of millions to spend
* No European distraction
* Settled and supportive board
* No conflict behind the scenes
* Carte blanche to do run things his way
* 100% support of the fans

Hodgson had major pressure to deal with:

* Distracting civil war in the boardroom
* A vital and highly publicised court case to decide the club's future
* Mass player demotivation after Benitez's final season
* Unsettled players (including Fernando Torres)
* No real money to spend (Ownership situation precluded it)
* Constant personal denigration from 'fans'
* European football + the league + domestic cups



KEY POINTS



* Despite spending

£89m MORE than Hodgson

, Liverpool's win percentage under Dalglish is only 3% better.

* With a

negative net spend of -£2m

(for all you net spend cultists out there), Hodgson achieved a better home record than Dalglish.

* Despite spending over

£100m on attacking new 'talent'

, Dalglish's goals per game ratio is the same as Hodgson's.

* The same applies to conversion rate: Tens of millions spent but it's only improved by

1.3%

under Dalglish.

* Liverpool dropped 1.7 points per game under Hodgson; under Dalglish, the team is still losing

1.5

points per game.

* Again, despite spending £117m, Dalglish's 'failure to win' ratio is practically the same as Hodgson's.

* Dalglish's worst run in the league (2 wins in 10 games; 6 defeats in 8; 3 league defeats in a row) is far worse than Hodgson's worst run (5 defeats in 8 games)

* Every point/win gained under Dalglish this season has cost millions more than under Hodgson.

If Dalglish and Hodgson were on a level playing field then you could argue there has been progress in the league. However, that is

NOT

the case; as I noted above, Dalglish has had every advantage this season, and the miniscule individual improvements (Shooting accuracy; away wins; clean sheets etc) need to be considered in the context of a 117m transfer spend.

For that money, Liverpool should've improved much more in the league, so in relative terms, it is (arguably) accurate to say that the club is doing *worse* under Dalglish in the league.

Additionally, it should be noted that Dalglish's net spend of £37m in one season is much higher than any net spend figure under Gerard Houllier or Rafa Benitez.

Ultimately, a £117m spend has bought Liverpool:

* A 38% win percentage (just 3% more than Hodgson)
* Less home wins than Hodgson
* more home draws than Hodgson
* The same goals-per-game ratio as Hodgson
* 1.35 increase in conversion rate
* 7% more clean sheets
* 0.15 more points per game than Hodgson
* A higher cost per win/cost per point ratio

The only people who need an 'intelligence check' are those who believe that this is actually genuine league progress.



Jaimie Kanwar
---
SITE UPDATE:
COMMENT POLICY

11 August 2014
Reasoned, adult discussion is the name of the game on this site, so please bear in mind the following when posting comments:
*

ALL

views are welcome, and if someone's football-related opinion doesn't fit your pre-conceived notion of what constitutes an LFC 'fan', then

tough luck

.

* Good-natured banter is fine, but posts containing personal insults, belittlement, sniping, deliberate antagonism etc (directed at fellow posters, players, managers, rival fans etc) will be

deleted.
*

Attack the

argument

, not the

person

.

Repeat offenders will be

banned

.
* Posts moaning about 'negativity' will also be

deleted

. The aim of this site is '

critical realism about LFC

', so please expect a critical/analytical approach, and be prepared to have your opinion challenged.


* Txt spk is

outlawed

. Please write in proper sentences, and avoid using abbreviations like LOL, PMSL etc.

* The site owner

welcomes and encourages disagreement

, but only if opposing views are presented in line with the guidelines above.
Ultimately, it's simple: be as vehement and passionate as you like, but please remain civil
at all times.
Thank you

.