In comparison with bitter rivals Manchester United, how much money have Liverpool FC spent on transfers during the Premier League era? For the first time ever, either online or offline, here are the club's gross/net transfer figures from 1990 until 2011. Be warned: it 'aint pretty!




NOTES



* The figures include all transfers up to and including Kenny Dalglish's activity in the transfer market.

* The figures come directly from Liverpool and Manchester United's

official financial accounts

, i.e. the only factual, irrefutable source.

* Adjustment for inflation is not necessary here. I am merely presenting the facts, not making a comparison between managers, or with today's monetary values. Inflation does not change the totals spent by each manager, or the amount paid out by the club for transfers at any given time.



LFC vs. MUFC: Transfer Spending 1990-2011 - Main Table




LFC vs. MUFC: Transfer Spending 1990-2011 - Grand Totals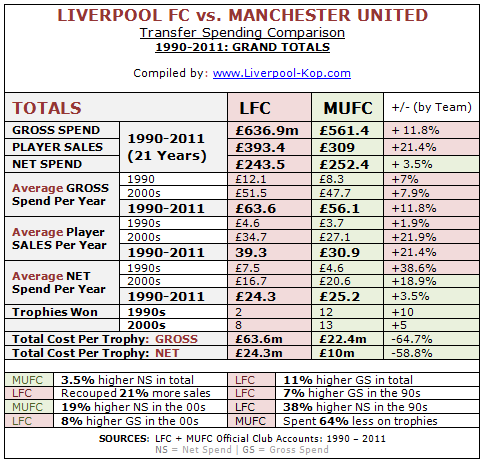 KEY POINTS



* Since 1990, Man United have spent

11% less

than Liverpool on transfers but won

60% more

trophies.

* Even in the 2000s, Liverpool have a higher gross spend than United.

* United's net spend is higher overall, but only by a miniscule amount.

* Gerard Houllier (£79m) had a higher net spend over 6 years than Rafa Benitez (£63m). According to the

Net Spend Cult

, this means that Houllier actually had more money to spend that Benitez (!). Clearly, such an argument has no credibility at all. (

Benitez Gross spend = £289m. Houllier Gross spend = £147.2m. On what deluded plane must someone exist to argue that £147m is greater than £289m?!

)

* Benitez has recouped the most money in players sales of all LFC's managers in the last 20 years.

* Available transfer funds have (inevitably) increased with each new manager.

* Since 1990,

45%

of LFC's available transfer funds have been spent by Benitez.

* Despite only 18 months in charge (second spell) Kenny Dalglish spent close to

20%

of LFC's available transfer funds for the last 21 years.

* Since 1990,

66%

of LFC's available transfer funds have been spent by Dalglish and Benitez.

* Luckily, Graeme Souness only got his hands on

3.6%

of the total transfer money provided to managers over the last 21 years :-)



Jaimie Kanwar
---
SITE UPDATE:
COMMENT POLICY

11 August 2014
Reasoned, adult discussion is the name of the game on this site, so please bear in mind the following when posting comments:
*

ALL

views are welcome, and if someone's football-related opinion doesn't fit your pre-conceived notion of what constitutes an LFC 'fan', then

tough luck

.

* Good-natured banter is fine, but posts containing personal insults, belittlement, sniping, deliberate antagonism etc (directed at fellow posters, players, managers, rival fans etc) will be

deleted.
*

Attack the

argument

, not the

person

.

Repeat offenders will be

banned

.
* Posts moaning about 'negativity' will also be

deleted

. The aim of this site is '

critical realism about LFC

', so please expect a critical/analytical approach, and be prepared to have your opinion challenged.


* Txt spk is

outlawed

. Please write in proper sentences, and avoid using abbreviations like LOL, PMSL etc.

* The site owner

welcomes and encourages disagreement

, but only if opposing views are presented in line with the guidelines above.
Ultimately, it's simple: be as vehement and passionate as you like, but please remain civil
at all times.
Thank you

.