Fulham striker Clint Dempsey is on fire this season, and earlier this week, Liverpool Chairman Tom Werner revealed his admiration for the American striker. I've argued several times this season that Liverpool should try and sign Dempsey in the summer, and according to Fulham manager Martin Jol, Dempsey could be available for a potential transfer very soon.


Jol is aware of the growing interest in his prize asset, and he's seemingly determined to keep Dempsey at Fulham:



"We talked to him and hopefully he will sign a contract to keep him here for the next three years. No club that has made an approach for him, but it's nice if they are positive about him"



However, during a Q&A session at Craven Cottage a few weeks ago, Jol made it clear that Dempsey will be shipped out if he refuses to sign a new contract. The following tweets from someone who attended the session confirm this: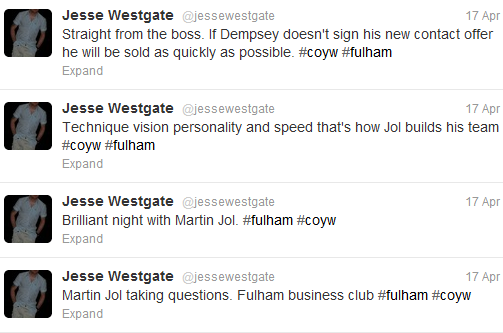 Liverpool legend Steve Nicol managed Dempsey at New England Revolution, and he recently talked up the possibility of a move to one of the Premier League's big clubs:



"If you look at Chelsea, Liverpool and Arsenal, the way they play would suit him [Dempsey] down to the ground, and for me, there's no reason why any one of those teams shouldn't be looking at him. If you look at the stats - and no disrespect to Fulham - those numbers tell you he should be playing at a high level.



The prolific striker's record this season is superb:

23 goals and 6 assists

in all competitions, which is a brilliant return, especially as he's playing in a team with comparatively inferior players to Liverpool.

Dempsey cost Fulham a comparatively paltry $4m, but is now reported to be worth £10m, and if Liverpool came in with a decent bid, I'm sure he could be prised away.

What do you think? Should Liverpool pursue Dempsey?





Jaimie Kanwar
---
SITE UPDATE: 19 May 2013 *

IMPORTANT

*
Due to the huge number of idiots and snipers who constantly attack others and/or try to derail comment threads, guest-commenting is no longer available. If you want to be part of the site's thriving discussion community, then please create a Disqus account, or sign in via FB, Twitter or Google. I apologise if this affects any regular posters, but there are benefits to using Disqus, such as email notifications, and retaining your comment history.