Reds fans might not like to admit it, but the uncomfortable truth that dare not speak its name at Anfield right now is this: Kenny Dalglish remains in a job because of who he is, not because of what's best for the club, and any other manager would've been sacked by now. We know this to be true because Gerard Houllier, Rafa Benitez and Roy Hodgson were all given the Anfield red card for lesser infractions.


None of the aforementioned managers presided over league form as bad as under Dalglish. Even in Benitez's dire final season, the worst league run he put together was three defeats and two draws in six games.

Gerard Houllier qualified for the Champions League in his final season and still got the sack, and Roy Hodgson was sacked after six months with a very similar league record to Dalglish.

Indeed, if you look through the league record of almost any top flight manager sacked in the last five years, you'd be hard-pressed to find someone with a worse league record than Dalglish.

Looking at the records of several other sacked managers over the last couple of years, it becomes even more clear that Dalglish's status as an untouchable LFC legend is the only thing keeping him in a job: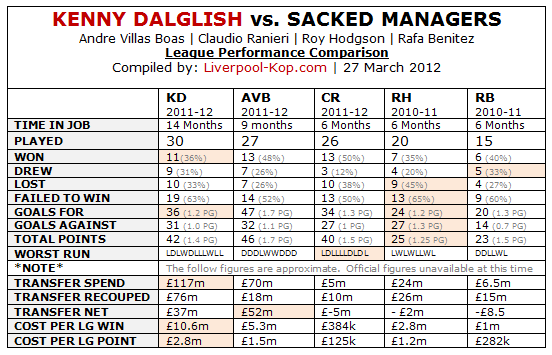 As you can see, Rafa Benitez, Andre Villas Boas and Claudio Ranieri had:

* A higher win percentage than Dalglish.
* A better points per game average.
* A higher goals per game average.
* A Significantly lower transfer spend per win and per point.
* Lower overall 'failure to win' ratio.
* Much less time in the job to try and get it right.

Despite doing a comparatively better job that Dalglish (in the league), all three were unceremoniously sacked less than a year into the job. Why? The answer is obvious: their respective clubs' owners were terrified of missing out on Champions League football, and took action accordingly.

That ship has sailed for Liverpool, and the club will now risk falling further behind the likes of Arsenal, Man United, Spurs, Chelsea and Man City, all of whom will inevitably strengthen.

The question is this: If Ranieri, AVB and Benitez deserved to be sacked, why does Dalglish deserve to stay? Is the Carling Cup so prestigious these days that winning it is enough to forgive excruciatingly poor league performance? If Abramovich or Moratti were running Liverpool, would Dalglish still be in a job?

To be clear: I am

not

suggesting Dalglish should be sacked. I'm just highlighting how he is comparatively lucky, despite leading Liverpool to their worst home league run since 1953.

I never want to see Dalglish sacked; after everything he's done for the club, he doesn't deserve it, and it would be damaging to his well-earned legacy and standing. Hopefully, when the time comes, Kenny will stand down of his own accord.

I would say this though: excessive loyalty to managers is part of the reason Liverpool have no won the league for 22 years. Houllier and Benitez were arguably given too long in the job, and the club stagnated as a result.

Yes, there's an argument for creating stability, but if the right manager is not in charge then you end up with instability instead, which is what is happening now under Dalglish.

When Dalglish replaced Hodgson, he said that he was 'lucky' to be given the a second chance in the Anfield hotseat. Clearly, his luck continues to hold.



Jaimie Kanwar
---
SITE UPDATE:
COMMENT POLICY

11 August 2014
Reasoned, adult discussion is the name of the game on this site, so please bear in mind the following when posting comments:
*

ALL

views are welcome, and if someone's football-related opinion doesn't fit your pre-conceived notion of what constitutes an LFC 'fan', then

tough luck

.

* Good-natured banter is fine, but posts containing personal insults, belittlement, sniping, deliberate antagonism etc (directed at fellow posters, players, managers, rival fans etc) will be

deleted.
*

Attack the

argument

, not the

person

.

Repeat offenders will be

banned

.
* Posts moaning about 'negativity' will also be

deleted

. The aim of this site is '

critical realism about LFC

', so please expect a critical/analytical approach, and be prepared to have your opinion challenged.


* Txt spk is

outlawed

. Please write in proper sentences, and avoid using abbreviations like LOL, PMSL etc.

* The site owner

welcomes and encourages disagreement

, but only if opposing views are presented in line with the guidelines above.
Ultimately, it's simple: be as vehement and passionate as you like, but please remain civil
at all times.
Thank you

.