How much has Liverpool spent on wages over the last decade compared to other top Premier League clubs? In the first article of this new series, I compare the club with Manchester United to see if a higher wage bill really is the secret to league-winning success.




NOTES



* The wages and salary figure includes

ALL

staff connected with the club. This means means coaches, medical staff, and even the guys that cut the grass at Anfield. However, the bulk of the figure will obviously be player salaries.

* Below is an example of how the figures are presented in the accounts:





* Deloitte uses the same figures in its 'Annual Review of Football Finance. If the figures are valid enough for the experts in the field then they're valid enough for me to use.

*

SOURCES

: Official club accounts for Liverpool FC and Man United FC: 2000-2010. Liverpool FC = Liverpool Football Club and Athletics Grounds Ltd (Company No: 0003568). Man United = Manchester United Football Club Limited (Company No: 95489).

I don't have time to post 20 separate snippets from each set of accounts (!), so if someone wants verification of any given year then leave a request in the comments and I will post the relevant snippet.



LIVERPOOL vs. MAN UNITED: Wage Comparison - 2000-2010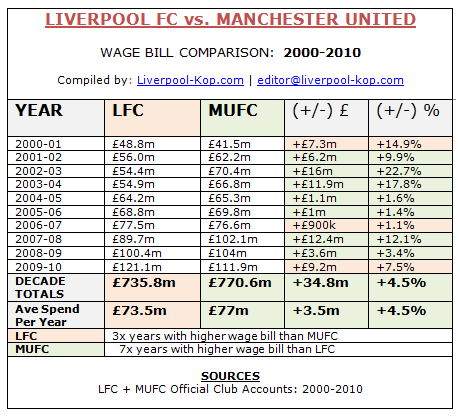 NOTES

* Is it really credible to argue that Man United outperformed Liverpool as a result of higher wage spending? As the figures here show, the difference between LFC and MU overall is comparatively minor: 3.5m extra per year over a 10 year period. Is that all it took to win 5 more titles than Liverpool? Or is it the influence of a world class manager that made the difference?

* Liverpool have higher wage spending than Man United for 3 of the last 10 years; United were higher for 7 of the last 10.

* In 2001, Liverpool had higher wage spending than United; in the same year, the club did the treble. How much did the higher wage bill that year contribute to the club's success (if at all)

* With a wage spend of £121m in 2009-10, it's just unacceptable that Liverpool did not qualify for the Champions League, especially in light of the fact Spurs spent

£56m LESS

on wages and managed to finish in 4th place.

* It seems to be a common belief that there is a direct correlation between wage-spend and success, but is this actually true? In its Annual Review of Football Finance 2010, pre-eminent accounting organisation Deloitte argued otherwise:



"Money spent on wages is certainly no guarantee of success for the majority of Premier League clubs, and...many clubs are getting questionable value for investment in player wages".



This has definitely proved to be the case for Liverpool FC, and if one thing is clear it's this: the value return on player salary investment (in terms of benefit to the club) has to improve exponentially under FSG and Kenny Dalglish.



NB: One of the goals of this site is to examine the club's finances in a comparative and historical context. I don't make up the figures, I just present them.





Jaimie Kanwar
---
SITE UPDATE:
COMMENT POLICY

11 August 2014
Reasoned, adult discussion is the name of the game on this site, so please bear in mind the following when posting comments:
*

ALL

views are welcome, and if someone's football-related opinion doesn't fit your pre-conceived notion of what constitutes an LFC 'fan', then

tough luck

.

* Good-natured banter is fine, but posts containing personal insults, belittlement, sniping, deliberate antagonism etc (directed at fellow posters, players, managers, rival fans etc) will be

deleted.
*

Attack the

argument

, not the

person

.

Repeat offenders will be

banned

.
* Posts moaning about 'negativity' will also be

deleted

. The aim of this site is '

critical realism about LFC

', so please expect a critical/analytical approach, and be prepared to have your opinion challenged.


* Txt spk is

outlawed

. Please write in proper sentences, and avoid using abbreviations like LOL, PMSL etc.

* The site owner

welcomes and encourages disagreement

, but only if opposing views are presented in line with the guidelines above.
Ultimately, it's simple: be as vehement and passionate as you like, but please remain civil
at all times.
Thank you

.