Luis Suarez's return to action against Spurs last night was not enough to inspire Liverpool to victory, but once again, the Uruguayan sparked a major talking point. This time, Suarez kicked Scott Parker when trying to get the ball, and received a yellow card for his trouble. Any fair-minded person can see that it was clearly accidental, but as all Liverpool fans know, Manchester United thug Wayne Rooney is anything but fair-minded.


As you can see below, Suarez had his eyes firmly fixed on the ball at all times. His attempt to get the ball was wildly off target, and a yellow card was deserved, but I sincerely doubt there was any intention to deliberately kick Parker. Not even Suarez would be that stupid.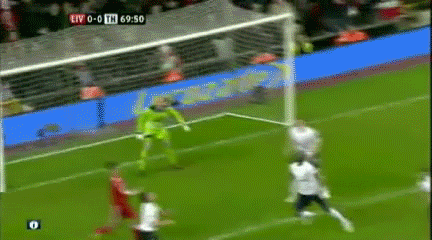 Having said that, watch the clip closely: Suarez's eyes are focused on the ball, but at the moment he actually kicks Parker, he's looking straight at him. Perhaps he was just anticipating where the ball would end up...?

During the game, Wayne Rooney - who has been booked for diving on several occasions throughout his Man United career, suggested on twitter that Suarez deserved to be sent off:




In his post-match press conference, Kenny Dalglish argued that Suarez 'just never saw' Parker, and when asked about Rooney's tweet, he responded:



"I don't have a view on what was tweeted, especially when I've not seen it. If Wayne Rooney was standing there and asked me the question, I could answer him, but unless he wants to ask me the question, I think I'll just plead the fifth amendment".



Former referee Graham Poll agreed with Rooney. He told The Daily Mail:



"As Wayne Rooney correctly tweeted, Suarez should have been sent off. The FA cannot act retrospectively as Suarez was shown a yellow card".



Is Rooney right? Did Suarez deserve to be sent off?



Jaimie Kanwar
---
REMINDER

: COMMENT POLICY

This is a site for

reasoned, adult discussion

. ALL views are welcome, and if someone's football-related opinion doesn't fit your pre-conceived notion of what constitutes an LFC 'fan', then

tough luck

. Posts containing personal insults, belittlement, sniping, deliberate antagonism, etc will be

deleted

. Repeat offenders will be

banned

. Attack the

argument

, not the

person

. Ultimately, it's simple: be as vehement and passionate as you like, but please remain

civil

at all times.

Thank you.