Liverpool winger Dani Pacheco has confirmed that he has signed a permanent deal with Spanish Segunda Division side AD Alcorcón.


A few minutes ago, Pacheco tweeted:

"I'm proud to announce that I'm joining Alcorcon permanent. I wanna say massive thanks to LFC for all they gave me in 6 years.

"I will always be a red. It's been my house and I will never forget it. Thanks to all you fans for the support and hope we celebrate"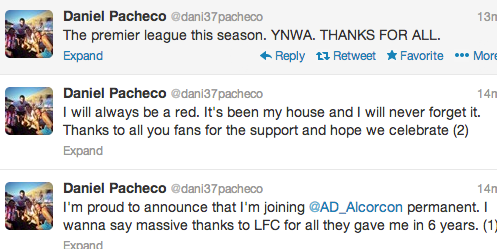 Pacheco's exit comes as no surprise. In an interview with the official Liverpool FC website in November, he stressed that he is 'determined to make it at Liverpool', but he also expressed his disappointment at being regularly ignored. He said:

"It's difficult when you don't play too many games. You get confidence by playing every week and I haven't done that yet. If I didn't have the belief that I could become a regular here I would have left already. I'll try to make sure that in the near future that happens. If it doesn't happen I will move on and try to make it somewhere else".

Pacheco is only 21, but he must privately feel that he's wasted five years of his career. It's a massive shame because he is a talented player, and if Rodgers had given the youngster the same opportunities as Suso and Sterling, it's possible he may have grown into the team.

Who is to blame for Pacheco's failure to make it Anfield? The youngster has to take some responsibility for his own development, but in my view, Liverpool have failed to effectively develop Pacheco.

He arrived at the age of 17, and the club's job is to develop him to the extent that he is ready for the first team. That clearly hasn't happened, and it's just Pacheco's bad luck that he arrived at a time when the club was on the verge of serious turmoil.

Four consecutive LFC managers have basically ignored Pacheco, and I don't see how can he get experience or build any rhythm/understanding with his team-mates if he's never given a proper chance in the team?

Pacheco's experience should be a warning to the increasing number of young players arriving at Anfield. Getting to the club is just the first step; the chances of actually progressing through the academy and becoming a consistent first team regular is - on current evidence - extremely slim, and it's worthwhile thinking about the career-impact of that.

Anyway: Good luck, Dani!

Jaimie Kanwar

NOTE: Please stick to the Comment Policy (Click to read)
Follow @JKTruth
---