There are various statistics floating around on the internet about Rafa Benitez's managerial career, but the full and complete stats have never been published on or offline before. Until now!


Whenever I've tried to research Benitez's career, I've often been frustrated by the lack of complete and accurate information available. In order to judge his career (and that of any other manager) fairly, complete statistics are necessary.

I have exhaustively compiled stats for Benitez's entire career, i.e. every single competitive game, from Valladolid in 1995, through Valencia; Liverpool in the Premier League, all the way up to the Spaniard's last job at Inter Milan. I obtained these figures from reputable sources both on and offline, including the clubs themselves (when I couldn't find the information I needed).

I draw no conclusions; I'm just providing the figures for information purposes.

TABLE 1: CAREER OVERVIEW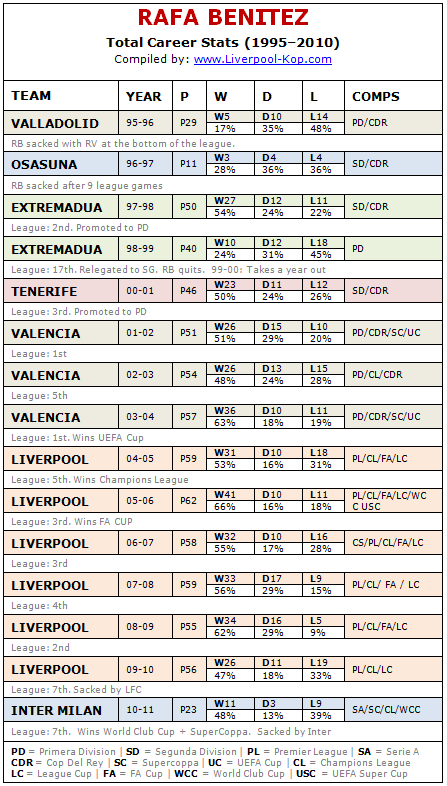 TABLE 2 - GRAND TOTALS
Jaimie Kanwar

---
SITE UPDATE: 5 May 2013
Despite the warning in March, the petty bickering between some posters persists, and the usual suspects (you know who you are) continue to fan the flames. A zero-tolerance policy is now being instituted. Anyone who insults/belittles another poster - and/or engages in personal arguments - will receive an instant 3-day ban (or longer depending on the incident). If someone attacks you, FLAG THE COMMENT and it will be dealt with.