Today, the Premier League launched its '20 Seasons Awards', a celebration of the greatest players, managers and moments in Premier League history. Categories include best player, best manager, best goal and best team, but one era-defining category is conspicuous by its undeserved absence, and that is the award for best DIVER. Man United would win this award hands down, and as Ashley Young showed against Aston Villa at the weekend, United's players continue to be the league's most prolific cheats.


Wayne Rooney is the undisputed King of diving in the Premier League, and during this series, I've highlighted over nine Rooney specials, two of which led to yellow cards for simulation.

Ashley Young was a diver at Villa, but since moving to Man United and playing alongside Rooney, he's refined his technique tenfold, and as you can see below, he can now cheat with Rooney-esque precision: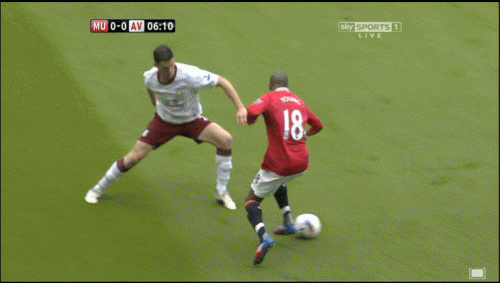 Like Rooney, Young is a disgrace to football, and the sooner retrospective punishment for diving is introduced, the better.

I can't see that happening though, and it's not as if football fans will push for it. Perish the thought! The sad truth is, 'fans' don't care about cheating, and they will condone *anything* - no matter how heinous, especially if:

* They like the player in question, or:
* It gives their team an advantage.

To see why football is in the

moral and ethical gutter

, you just have to look at the disturbing views of alleged 'fans' in response to Luis Suarez's recent admission that he would happily cheat for Liverpool.

According to some Liverpool fans, it's okay to publicly declare an intention to cheat; in fact, it's 'honourable', 'admirable', and 'refreshing' to do so! Truly sickening really, but that's the way it is.

Football fans just want to win; they don't care if a win is achieved dishonestly, and this is why cheats like Young, Rooney and Suarez will always prosper. When your own fanbase is *encouraging* you to cheat, and then *deifying* you for it afterwards, what other choice is there than to keep doing it?

Footballers are only as ethical as the enabling fans who cheer them on, and with that in mind, it's no surprise at all that modern football is a seething cesspool of cheating and corruption.



Coming soon to a cinema near you:




Jaimie Kanwar
---
SITE UPDATE:
COMMENT POLICY

11 August 2014
Reasoned, adult discussion is the name of the game on this site, so please bear in mind the following when posting comments:
*

ALL

views are welcome, and if someone's football-related opinion doesn't fit your pre-conceived notion of what constitutes an LFC 'fan', then

tough luck

.

* Good-natured banter is fine, but posts containing personal insults, belittlement, sniping, deliberate antagonism etc (directed at fellow posters, players, managers, rival fans etc) will be

deleted.
*

Attack the

argument

, not the

person

.

Repeat offenders will be

banned

.
* Posts moaning about 'negativity' will also be

deleted

. The aim of this site is '

critical realism about LFC

', so please expect a critical/analytical approach, and be prepared to have your opinion challenged.


* Txt spk is

outlawed

. Please write in proper sentences, and avoid using abbreviations like LOL, PMSL etc.

* The site owner

welcomes and encourages disagreement

, but only if opposing views are presented in line with the guidelines above.
Ultimately, it's simple: be as vehement and passionate as you like, but please remain civil
at all times.
Thank you

.