Andy Carroll's season went from bad to worse last Sunday when he embarrassed himself with a blatant dive during Liverpool's defeat to Newcastle. The underperforming striker was swiftly yellow-carded, and to add insult to injury, Kenny Dalglish subbed him off despite Liverpool being in desperate need of a goal. The Ridicule and recrimination has intensified over the last three days, and former Anfield striker Stan Collymore has called for harsher punishments for diving and play-acting.
Collymore made it clear during his post-match TalkSport show that he was disgusted with Carroll's laughable attempt to con the referee:
Collymore was equally scathing about James Perch's disgraceful play-acting after the Pepe Reina's attempted headbutt:
Collymore vented his frustration on Twitter, arguing that both Carroll and James Perch should be punished. He tweeted:
"Not many suggesting punishments for diving, so is it now with us for good? I say give Carroll/Perch three game bans. They won't do it again"
I totally agree with this. Currently, there is absolutely no incentive for players not to dive; 99% of the time, they get away with it, and even when the dive is as blatant as Carroll's, managers implicitly condone the behaviour by doing absolutely nothing about it.
Kenny Dalglish is guilty of this; after the Newcastle game, he disputed that Carroll dived, and argued that he'd merely '
stumbled
' in the box. That excuse is almost as embarrassing as the dive itself.
Perch's dive was just as bad as Carroll's, and although Reina deserved to be sent off for the intent, he can perhaps feel a little aggrieved at the obvious play-acting that caught the referee's attention.
Liverpool's players were furious with Perch, and after the game, they showed their support for Reina in typical LFC fashion: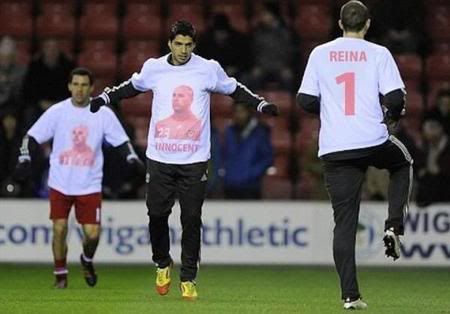 Image credit: cubistTOON
Jaimie Kanwar
---
SITE UPDATE:
COMMENT POLICY

11 August 2014
Reasoned, adult discussion is the name of the game on this site, so please bear in mind the following when posting comments:
*

ALL

views are welcome, and if someone's football-related opinion doesn't fit your pre-conceived notion of what constitutes an LFC 'fan', then

tough luck

.

* Good-natured banter is fine, but posts containing personal insults, belittlement, sniping, deliberate antagonism etc (directed at fellow posters, players, managers, rival fans etc) will be

deleted.
*

Attack the

argument

, not the

person

.

Repeat offenders will be

banned

.
* Posts moaning about 'negativity' will also be

deleted

. The aim of this site is '

critical realism about LFC

', so please expect a critical/analytical approach, and be prepared to have your opinion challenged.


* Txt spk is

outlawed

. Please write in proper sentences, and avoid using abbreviations like LOL, PMSL etc.

* The site owner

welcomes and encourages disagreement

, but only if opposing views are presented in line with the guidelines above.
Ultimately, it's simple: be as vehement and passionate as you like, but please remain civil
at all times.
Thank you

.