Under Rafa Benitez, Liverpool finished four points away from winning the title in 2009. A year later, the club had plummeted to 7th in the table and failed to qualify for the Champions League. Many fans blame reviled former owners Tom Hicks and George Gillett for Liverpool's overall demise in 2009-10, so considering Kenny Dalglish has the benefit of supportive owners and a stable boardroom, how does his first season in charge compare to Benitez's tumultuous final season?


Some things to consider:

* Benitez's final season was plagued with boardroom turmoil and spats with the Owners, some of which were, admittedly, caused by Benitez himself.

* Dalglish has been afforded every advantage a manager could ever desire since returning to Anfield.

* I don't personally agree that Hicks and Gillett were to blame for Liverpool's dramatic collapse in 2009-10; if you're going to blame them for that, then how can 2008-9 be explained? Surely, with such terrible owners, Liverpool should've had no chance of finishing second in the league?

Anyway: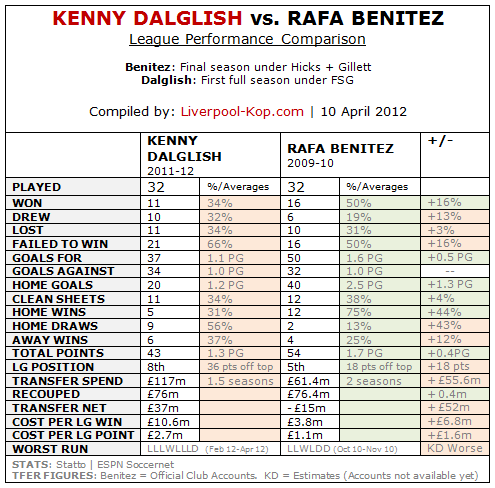 KEY POINTS



* As regular readers will know, I am not a fan of Benitez's management style (!); however, the Spaniard outperformed Dalglish in almost every way: Superior home record; more goals scored overall; better points-per-game average; more clean sheets; higher league position etc.

* This was achieved despite a negative net spend for the previous two seasons.

* Benitez's team had extra European games to deal with; Dalglish has not had that tiring distraction.

* Liverpool are a staggering 36 points behind Man United at the moment; under Benitez, the difference was only 18 points at the same stage of the season.

* Dalglish's reign has been very expensive for Liverpool so far, with each league win costing over £10m, compared to £3.8m under Benitez.

* Dalglish has failed to win 66% of all league games, which is far worse than Benitez (50%), and is even worse than Graeme Souness's first season (60%)

Like Dalglish, Benitez is revered by a huge number of Liverpool fans, yet he was was sacked at the end of 2009-10 for doing far *better* in the league than Dalglish, despite spending signficantly *less* money.

With the above in mind, if things stay as they are in the league, is there a supportable argument for giving Dalglish another season? If there is, I would love to hear it!

I'm not for minute suggesting that it was wrong to get rid of Benitez in 2010 - I still think it was the right decision, but the club has clearly not handled manager recruitment very well since then.

When Benitez left, the club had already regressed in the league, and that regression has only intensified over the last 18 months.



Jaimie Kanwar
---
SITE UPDATE: 19 May 2013 *

IMPORTANT

*
Due to the huge number of idiots and snipers who constantly attack others and/or try to derail comment threads, guest-commenting is no longer available. If you want to be part of the site's thriving discussion community, then please create a Disqus account, or sign in via FB, Twitter or Google. I apologise if this affects any regular posters, but there are benefits to using Disqus, such as email notifications, and retaining your comment history.