Controversy is seemingly never far away when it comes to Liverpool striker Luis Suarez, and during the recent Spurs game, he was booked for a dangerous kick on Scott Parker. After the game, Man United thug Wayne Rooted tweeted that Suarez should've been sent off, and I'm sure there are people out there that share that view. Liverpool legend Steve Nicol is not one of them, and he believes Rooney may be in trouble with Sir Alex Ferguson stirring the pot ahead of Man United's crunch match with Liverpool this Saturday.


The image below shows the following:

* Suarez initially pushing Parker out of the way
* Suarez with his eyes firmly fixed on the ball
* As the ball drops, Suarez looks straight at Parker
* Suarez kicks Parker in the stomach.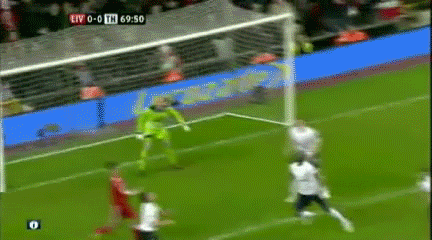 I don't think intention can be inferred either way, but given the fact Suarez had just returned from a 9 match ban, he would have to be incredibly stupid do something like that deliberately.

Speaking on ESPN, Steve Nicol insisted that the referee got the decision 100% right:

"The referee had a great game, and in that particular situation, he was absolutely spot on. Suarez has just come on; he's hyped, and hasn't played in a month, and he's desperate to do well for himself and Liverpool.

"All he sees is the ball and doesn't see Parker; he naively swings at it and catches Parker, but I think it's a sensible decision from a referee who got decisions right all night".

I agree that referee got the decision right but I think it's Nicol who's being slightly naive here by suggesting that Suarez didn't see Parker; he quite clearly looks at him when the ball drops.

Nicol further argued that the incident shouldn't be such a big deal:



"He [Suarez] has made some mistakes, but if Wayne Rooney doesn't tweet this, then it's not really a huge issue".



I doubt Rooney was actively thinking about deliberately stirring things up ahead of Saturday's game; he's a football fan like everyone else, and he's entitled to his opinion; however, Nicol believes that Rooney might get it in the neck from his manager:

"If you're Alex Ferguson, you don't want any of your players saying something that's going to wind Liverpool or Suarez up. Suarez has a big enough point to prove to United without one of his own players making Suarez try even harder.

"I'm sure Fergie's not going to be happy about it, and if there's any winding-up to be done, Ferguson's more than capable of doing it himself".

I sincerely doubt that Ferguson even gave it a second thought. Hopefully, Nicol is right, and Suarez will be extra motivated against United on Saturday.



Jaimie Kanwar
---
SITE UPDATE:
COMMENT POLICY

11 August 2014
Reasoned, adult discussion is the name of the game on this site, so please bear in mind the following when posting comments:
*

ALL

views are welcome, and if someone's football-related opinion doesn't fit your pre-conceived notion of what constitutes an LFC 'fan', then

tough luck

.

* Good-natured banter is fine, but posts containing personal insults, belittlement, sniping, deliberate antagonism etc (directed at fellow posters, players, managers, rival fans etc) will be

deleted.
*

Attack the

argument

, not the

person

.

Repeat offenders will be

banned

.
* Posts moaning about 'negativity' will also be

deleted

. The aim of this site is '

critical realism about LFC

', so please expect a critical/analytical approach, and be prepared to have your opinion challenged.


* Txt spk is

outlawed

. Please write in proper sentences, and avoid using abbreviations like LOL, PMSL etc.

* The site owner

welcomes and encourages disagreement

, but only if opposing views are presented in line with the guidelines above.
Ultimately, it's simple: be as vehement and passionate as you like, but please remain civil
at all times.
Thank you

.