Liverpool legend Mark Lawrenson is often reviled by fans for his outspoken views on the club, and when asked about Glen Johnson's recent tackle against Man City, the European Cup winning defender was in typically blunt form.


Speaking to The Mirror, Lawrenson, who put in a few crunching tackles during his time at Anfield (!), argued:

"Most people agree that Glen Johnson's tackle was worse [than Kompany's] and yet he didn't get sent off by Lee Mason.

"The frustration is that there is so much inconsistency. Two referees and two different decisions, and that is why it is hard to take".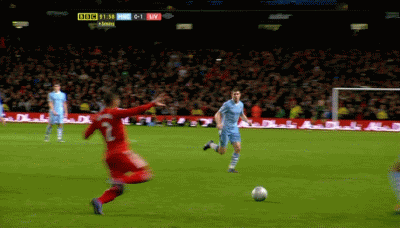 FIFA's law on the issue: states:

Any player who lunges at an opponent in challenging for the ball from the front, from the side or from behind using one or both legs with excessive force and endangering the safety of an opponent is guilty of serious foul play. A player who is guilty of serious foul play should be sent off.

Lawro gave his view on the application of the law:

"When you take the FIFA law apart, referees will say Kompany had to go. Players and managers will say it was harsh. Well, Sir Alex Ferguson, apart.

"Manchester City fans were screaming blue murder after Johnson escaped. And I can understand that because they felt aggrieved after Kompany.

"The problem is that the rules are not specific enough. Let's introduce "studs up" into the equation. They are also not practical enough.

Lawro then called for an overhaul of the current system:

"Let's make them practical by a regular panel of ex-player, ex-manager and ex-referee sitting, discussing and deciding on guidance on key issues.

"At the moment, referees appear to be refereeing to please the assessor in the stand rather than for the game".



Jaimie Kanwar
---
SITE UPDATE:
COMMENT POLICY

11 August 2014
Reasoned, adult discussion is the name of the game on this site, so please bear in mind the following when posting comments:
*

ALL

views are welcome, and if someone's football-related opinion doesn't fit your pre-conceived notion of what constitutes an LFC 'fan', then

tough luck

.

* Good-natured banter is fine, but posts containing personal insults, belittlement, sniping, deliberate antagonism etc (directed at fellow posters, players, managers, rival fans etc) will be

deleted.
*

Attack the

argument

, not the

person

.

Repeat offenders will be

banned

.
* Posts moaning about 'negativity' will also be

deleted

. The aim of this site is '

critical realism about LFC

', so please expect a critical/analytical approach, and be prepared to have your opinion challenged.


* Txt spk is

outlawed

. Please write in proper sentences, and avoid using abbreviations like LOL, PMSL etc.

* The site owner

welcomes and encourages disagreement

, but only if opposing views are presented in line with the guidelines above.
Ultimately, it's simple: be as vehement and passionate as you like, but please remain civil
at all times.
Thank you

.