In the 5th article of a 7 part series, I take a look at how Rafa Benitez's transfer spending between 2004 and 2009 compares to Spurs' spending over the same period.


SERIES GOAL

* To accurately report the gross/net spend of the UK's top clubs since 2004.

* To dispel the myth, exaggeration and misinformation surrounding the transfer spending of the UK's top clubs.

* To finally bring clarity and accuracy to this area so that future debates about transfer spending can be based in fact, not generalisation and biased opinion.



NOTES



* Liverpool and Spurs have slightly different accounting years:

Liverpool: 31 July - 31 July
Spurs: 30 June - 30 June

* I have omitted transfer activity (both teams) for accounting year 2009-10 as neither clubs' accounts for that year are available until 2011. Consequently, there is no way to be 100% sure about the figures.

* The transfer of Xabi Alonso took place after the 2008 accounting deadline, which is why it's not included here. I will update the transfer spending table when the 2009-10 accounts are released.

* This series is NOT an attack on Rafa Benitez. The comparisons to be undertaken are regularly requested by visitors to this site.

* These stats have never been compiled before online.



Rafa BENITEZ vs. SPURS Managers 2004-2009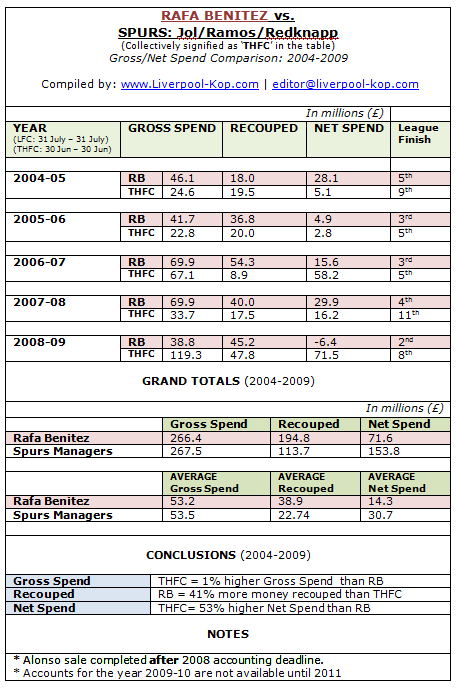 Like Chelsea, Spurs' figures make a mockery of the lame net-spend argument used by many football fans (I'm talking about how the argument is used generally, not specifically by those who support Rafa Benitez):

* Spurs have a a much higher net spend over 5 years than Liverpool, Arsenal, Chelsea AND Manchester United.

* According to the net-spend cult, this apparently means that Spurs must be the most successful team in the Premier League (!). After all, they spent more money than Chelsea and Man United so it it makes logical sense, right?

Obviously WRONG.

There is no persuasive correlation between net-spend and football success. It's pure fantasy - an excuse dreamed up by desperate football fans to try and justify ineffective performance in the transfer market. The net spend argument is, without doubt, the most ludicrous football 'theory' I've ever come across. And despite the fact it keeps being discredited, the net-spend cult persist with their delusion that it is the ultimate indicator of football/transfer success.



SEE ALSO

:

Part 1: Rafa Benitez vs. Alex Ferguson: Transfer spending comparison (2004-2009)

Part 2: Rafa Benitez vs. Arsene Wenger: Transfer Spending comparison 2004-09

Part 3: Rafa Benitez vs. Man City: Transfer Spending comparison 2004-09

Part 4: Rafa Benitez vs Chelsea: Transfer Spending comparison 2004-09



Jaimie Kanwar
---
SITE UPDATE:
COMMENT POLICY

11 August 2014
Reasoned, adult discussion is the name of the game on this site, so please bear in mind the following when posting comments:
*

ALL

views are welcome, and if someone's football-related opinion doesn't fit your pre-conceived notion of what constitutes an LFC 'fan', then

tough luck

.

* Good-natured banter is fine, but posts containing personal insults, belittlement, sniping, deliberate antagonism etc (directed at fellow posters, players, managers, rival fans etc) will be

deleted.
*

Attack the

argument

, not the

person

.

Repeat offenders will be

banned

.
* Posts moaning about 'negativity' will also be

deleted

. The aim of this site is '

critical realism about LFC

', so please expect a critical/analytical approach, and be prepared to have your opinion challenged.


* Txt spk is

outlawed

. Please write in proper sentences, and avoid using abbreviations like LOL, PMSL etc.

* The site owner

welcomes and encourages disagreement

, but only if opposing views are presented in line with the guidelines above.
Ultimately, it's simple: be as vehement and passionate as you like, but please remain civil
at all times.
Thank you

.